A FINE STAFFORDSHIRE ANTIQUE POTTERY PRATT WARE ARBOUR FIGURE GROUP

"BABES IN THE WOOD"

C.1795-1815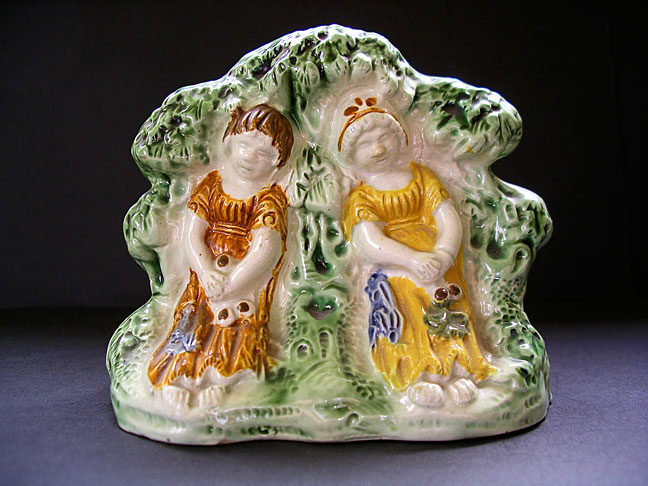 Please study all images carefully forming part of this description before you buy...
Description: "A fine early antique Staffordshire pottery Pratt Ware arbour figure group of two children in attractive Georgian Jane Austin style garb, found contentedly asleep beneath a green canopy of trees. Both appear to have been picking apple fruits from the tree... What rural bliss! A rare piece for the knowledgeable connoisseur collector of best English antique pottery and antique Staffordshire pottery figures. Sometimes this figure is referred to by collectors as "

Babes in the Wood

" how charming. " Antiques Expert Hamilton Bear
References: An identical example of this figure is in the City Museum and Art Gallery Stoke on Trent permanent collection; confirmed made in Staffordshire and illustrated in

English Earthenware Figures 1740-1840

Pat Halfpenny (Antique Collectors' Club 1991) page 100.
Dimensions: height 90 mm max. width 102 mm max.
Condition: In very good condition and excellent for display. Some typical old minor restoration: a small flat section of the base has been filled and repainted; the tiny nose of the figure (right) has been restored. There are several minute edge chips to the base which are difficult to spot and too small to be significant. Overall a very nice example for the discerning collector of finest antique English pottery figures.
Shipping: UK P&P £10.00 Special Delivery; EU P&P £14.00; North America and Worldwide P&P £19.00
Payment: We accept Paypal and all major debit and credit cards including Mastercard and Visa... Click on the secure online Buy Now payment buttons below. No Paypal account needed to pay. Pay in your own currency through Paypal. GBP cheques welcome by arrangement.
Delivery: We aim to dispatch within three working days of confirmed payment.
Terms: For our full trading terms including returns please check out our terms link.
Testimonials: Great service guaranteed - please check out our feedback link.
"View more great antiques for sale zones now!"
Antiques Expert Hamilton Bear